I've been a student in Birmingham for 7 months now, and it's certainly a bit different to the small rural town I grew up in! I'm living in student halls (on the Aston campus) which are practically a 10 minute walk from New Street station and the centre. It's a fantastic city for students with a huge number of shops and events going on all year round. Birmingham is infamous for being a sprawling metropolis with a host of problems, but like every city it has it's good and bad areas. Most people have a self deprecating attitude and see the funny side of the endless news stories about how terrible Brum is. Excluding the usual drunk behaviour I've never been threatened and as long as you have some basic street sense you'll stay safe. Here's a summary of the most famous places in Birmingham:
Broad Street. This is the centre for nightlife and there are dozens of clubs that are packed every weekend and some weeknights too.
The Bullring and Selfridges. Built on a historic market area, the Bullring is one of the busiest shopping centres in the country.
Centenary Square and the Library. 60 metres high and built at a cost of £188 million, it's probably the nicest building in the city.
Mailbox and Canals. The Mailbox was previously a central sorting office for Royal Mail, but has been developed into a shopping complex as well as BBC headquarters. On the canal side there are lots of high end restaurants making it a popular location in the evenings.
Spaghetti Junction. The Gravelly Hill interchange is possibly one of the first places to have this nickname after is was penned in 1965.
Cadbury at Bournville. Cadbury World is a huge tourist attraction and the surrounding model village has been described as one of the nicest places in Britain to live.
The German Christmas Market. In December the entire centre is transformed as hundreds of stalls move in for the market.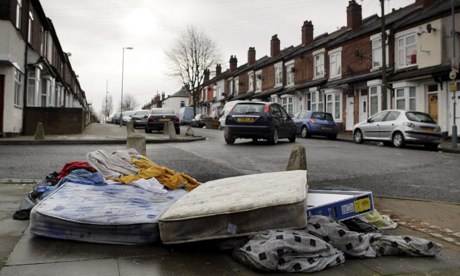 James Turner Street. Channel 4's Benefits Street is yet another example of one very dilapidated area dragging down the whole city's reputation. Parts of Handsworth and Smethwick
And here's a bonus video of a 20 storey tower that was demolished on the Aston campus the Sunday just gone!